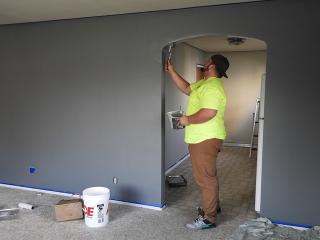 Are you planning to paint your house any time soon? You need to understand that there are numerous contractors for house painting in Denver but the quality of their service varies widely and so do their charges. The most important point to note is that higher charges will not always give you higher quality house painting in Denver.
This simply means you can pay more than your neighbor and still get a lower quality service. It all depends on your choice of house painting contractor in Denver. So, if you intend to get a higher quality service at the lowest possible cost, you need to follow the tips outlined right below.
Invite about three to four contractors
The fact that your friend or colleague referred a painting contractor to you does not mean you should hire him off the bat. Given, he is good and you have seen his jobs. What if there are contractors that are better and will charge less?
No matter how impressive a contractor appears to you, invite others too before you make a choice. Let about four of them come and check out your building and then give you a quote before you make a choice.
Don't base your judgment solely on the lowest charges
It is only natural to lean towards the contractor with the lowest charges. But there are other factors to consider too. What is the turnaround time? What if the contractor with the lowest charges offers the worst turnaround time?
Well, you could argue that it's your house and there is no deadline involved so you don't need express service. Fine, but you should also check the quantity of paint each contractors recommends. Maybe the one with the highest charges recommends more buckets of paint.
Full insurance
You must hire a contractor that has fully insured his employees. The reason is simple. If an accident occurs while painting your house, their insurance provider will be responsible. But if the victim is not insured, it becomes your legal obligation to foot the bill.
Don't let any contractor assure you that they have not encountered any accident since inception or that they operate on the highest safety standards. An accident has never occurred in his team does not mean it can't happen in your turn. There is always a first time for everything. In a nutshell, hire a contractor that is fully insured and seek documentary proof.
Ask for guarantee
While some contractors will give you about two to three years guarantee, others may not. So, you are better off with the contractor that offers to fix any chalking, fading, flaking, blistering, peeling, or chipping within two years after painting.
Precautions
There are a couple of precautions to take here. First of all, you should be wary of overly low charges. It usually precedes poor jobs. Some contractors usually adopt the gimmick of promising a turnaround time they know they can't meet just to clinch the job. Before hiring any contractor, you should agree on a particular penalty for not meeting the promised turnaround time.
Most painting contractors either partner with paint suppliers or sell paints themselves. Sometimes they use a painting job as an opportunity to push out old stock. So, your contractor can only suggest several colors for you and have you pick. Don't allow any contractor to stipulate a particular color for you.
House Painting Denver
Dowd Restoration
303-522-8730
4891 E. Baytes Ave, Denver, CO 80222
View Larger Map