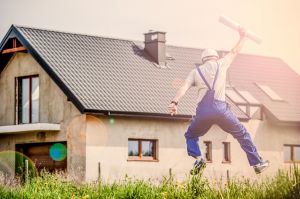 Exterior Painting Denver" />Are you thinking about giving the exterior of your Denver home some great new look? And rather than call a professional painter you wish to do it on your own. That is just fine. But before you get your brush and start painting away, here are 8 important tips to keep in mind while doing the exterior painting of your Denver home;
1) Time of the year:
Before you even think about brushing your first stroke consider the time of the year. Paints generally do better during the dry periods of the year. They dry faster. Rainy and low humidity periods are not so favorable for exterior painting in Denver as they would not allow the paints to dry faster and would also not provide the dry surface needed for better paint adhesion.
2) Choose quality:
Choose better quality paint, regardless of the price, as this would help you save more in the long run. Buying cheap low-quality paint is purely being penny wise and pound foolish, as such paints easily fade off or fall off after drying, forcing you to have to paint again. A good quality paint will last longer, saving you money and energy for a long period of time.
3) Prep the surface:
Before you begin painting you must prep the surface on which you wish to paint. Paints don't stick to dirty or rough surfaces. If the surface has old paint that is falling off, scrap it out completely. Clean/sand the surface properly so as to provide a solid layer on which your new paint can rest.
4) Pull off rotten sidings:
It makes no sense painting rotten door or window sidings. Aside from the fact that such paints won't last, the wood will continue to deteriorate, making nonsense of your paint. The better option will be to pull them out completely and replace them with new ones. Wood fillers can also be used if the rotten area is small.
5) From the top downwards:
When you begin to paint, you are to paint from the top downwards. You are to work with gravity and not against it. Painting this way helps to better control streaks. Also, painting from top to bottom allows your work to be neater, as drips would not ruin your job.
6) Cover your paint tightly:
Assuming you still have paint left after a day's job, cover the paint container tightly with the lid. This is to prevent the paint from drying up. A dried up paint is more or less useless.
7) Add grit:
While painting surfaces such as floors or steps, you can add a bit of fine sand to the paint. This is so as to increase traction and to prevent such surfaces from being too slippery.
8) Cover important materials:
You may not be aware of this the first time you set out to paint, but you are certainly going to make a lot of mess while painting. It is advisable therefore to cover floors, grass, and materials around the areas that you would be painting. If you have furniture that can be moved, move them away so as to avoid ruining them with paint.
These are eight important tips that you must keep in mind as you set out to do some exterior painting of your Denver home.
Dowd Restoration
303-522-8730
4891 E. Baytes Ave, Denver, CO 80222
View Larger Map