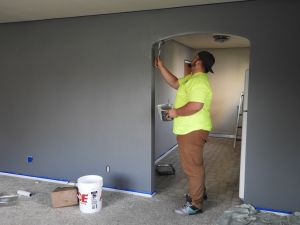 We use the latest innovations in painting. Most of these innovations are available in the Denver metro area. Our next Denver home painting project might take advantage of the following materials.
1) Paint that Kills Bacteria
Several manufacturers have designed paints that kill bacteria. In fact, some claim to kill up to 99.9 percent of bacteria, including E.coli, MRSA, staph, VRE, and Enterobacter aerogenes. These paints have a bactericide made of a quaternary ammonium compound. This type of paint is effective against bacteria for several years. It is applied just like normal paint is. It will reduce the chances of contracting diseases. It's an ideal solution for environments where transmission of diseases is likely.
2) VOC-free Paints
Volatile organic compounds (VOCs) are compounds that easily become gases or vapors. VOCs reduce air quality in the home. VOCs cause eye, nose, and throat irritations, headaches, nausea, liver damage, and kidney damage. Several paint manufacturers have designed paint without VOCs. These are safer than traditional paints. Low-VOC paints can maintain air quality up to six months after applications. A gallon of VOC-free paint prevents three pounds of VOC emissions.
3) Paints that React to Temperature Changes
Hot and cold temperatures affect paint differently. Manufacturers are developing paints that can take advantage of temperature changes. For example, particles that absorb sunlight may be added to paint mixtures to harness solar power. These particles could be used to store heat during winter months and reflect sunlight during summer months. Reactive paints can be used to create designs on walls. It can also be used as a thermometer to measure the temperature. Our next Denver home painting project could incorporate temperature-sensitive paints.
4) Electroluminescent Technology in Paint
Walls and surfaces can be sources of light with electroluminescent paint. This type of paint lights up when an electric current is applied to it. It is compatible with wood, plastic, drywall, metal, and cement. The electrodes in the paint are excited when the correct voltage and frequency is applied. A spray gun is required to apply the paint to the surface.
Fluorescent paint absorbs light and releases it over a period of time. Both fluorescent paint and electroluminescent paint are available in several colors. The surfaces on which this type of paint is applied becomes a switchable light communication device. The paint consists of several layers and the functional sub-unit consist of the following: primary coat, conductive coat, dielectric layer, luminophore coat, busbar, and a power source.
5) Apps
There are smartphone apps for painting. With a painting app, it's possible to paint a home virtually. This can save time and money. Our painting crews can take pictures with a phone and edit the image with an app. Some apps have decorating options for the fences and roofs. Some apps provide tips for using the tools within the app. We can email examples and share color ideas on social media websites such as Facebook, Twitter, and Instagram. Our next Denver home painting project could involve the use of apps.
Dowd Restoration
303-522-8730
4891 E. Baytes Ave, Denver, CO 80222
View Larger Map